Bruce and Natasha

General Information

Intimacy Level

Love Interest; Former Teammate; Friends; Former Allies; Bruce and Natasha are in love with each other; Nat used to be scared of the Hulk, but has learned to calm him down; Bruce saved Natasha when she was abducted by Ultron; Kissed Once

Status

Separated
(Natasha is on Earth and Bruce is with Asgardian survivors)

First Met

The Avengers

Portrayed By

Mark Ruffalo
Scarlett Johanson
"BlackHulk" is the fan-dubbed pairing between Bruce Banner and Natasha Romanoff.
Trivia
[
]
Age of Ultron

[

]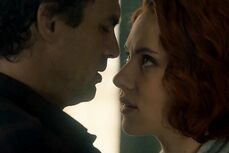 Both of them mutually like each other, as revealed in Age of Ultron.
Natasha used to be scared of the Hulk, but now, is not so afraid of him and even calms him down by touching his hand and soothing the gentle giant. 
Have kissed each other.  
Bruce saved Natasha after she was kidnapped by Ultron.  
Thor: Ragnarok

[

]
When Natasha's image appeared on screen when Hulk was attacking the Quinjet, Bruce (as the Hulk) immediately transformed back into himself.